My life is getting crazy.
Tomorrow I am making my 100th post on my blog, and I think that no good, pig stealing, sidekick of mine is trying to cook something up.
Then I have to go on vacation the day after, and I won't be back for a couple days... *sigh*. It'll be okay. I think.
But This isn't about my vacation. This is more about LGS. I did a
challenge.
Becca has been working hard, (As a good sidekick should) to make me some posters... Here is one of them.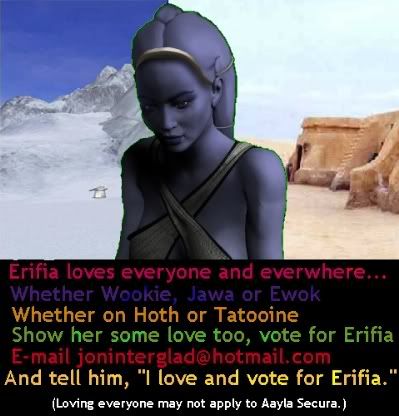 So... When Jon posts his saying, "Go and vote for who you want to win immunity..." Please vote for me? Just like the poster says.
If you'll excuse me, I have a...food...in the oven,
Wishful hugs, and pleading kisses,
Erifia Apoc
PS.
If you liked the first poster, see the other two here.